Site News
Renamed Theme Pages
I have now renamed the theme pages instead of using "/theme.php?id=k700" i have now got "/k700.php". This is to make it easier for search engines to crawl. The old pages still exist but i have replaced all the links to goto the new pages.

I have also added a text theme list as well as the drop down to add more support.
This article was posted by vinnieza on 21/08/06
First in web search
Wow, i just noticed VThemes is first if you search "K800 themes" on msn. Now that was a surprise.

Check it out for yourself. Wonder how long that'll last

. Well the page was on google's second page of search results, but now it's vanished. Shame as i just added a K800 theme.

We still only have 12 members though. Guess i need to improve my themes and make even more

This article was posted by vinnieza on 18/08/06
Wap Site
I have just created a WAP Site for VThemes so you can download your files using WAP.

You can view it by entering this in your wap browser on your phone:

www.vthemes.co.uk/wap/index.php

NB: Please note you maybe charged by your operator for using the service

Edit: There was an error with my wml so you couldn't access it. This has been fixed now.
This article was posted by vinnieza on 18/08/06
New Notepad Theme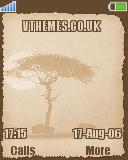 I have created a new theme for the K800 due to seeing from my logs that most visitors visit this site for K800 themes. So let's give them something to download



You can find the theme here


This article was posted by vinnieza on 17/08/06